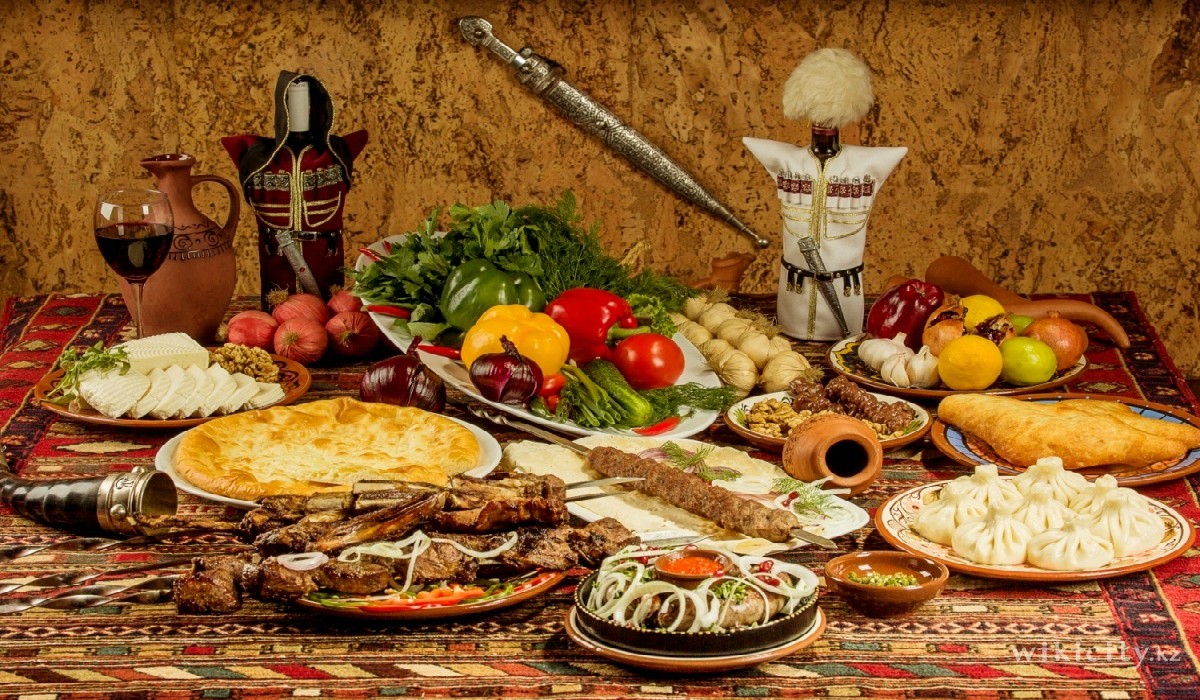 Enjoy Georgian Dishes
Georgian Dishes
Khachapuri
Imerian - Imeretian khachapuri is a Georgian national flour product, which is a cake with cheese.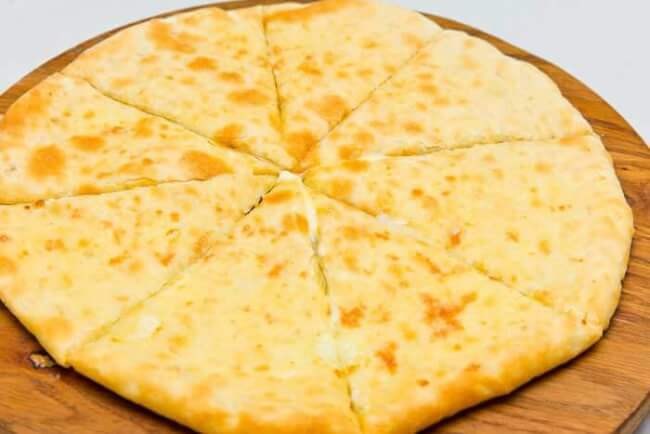 Megrelian - Mengrel khachapuri - the same cake with cheese but a flat cake on top is additionally sprinkled with cheese.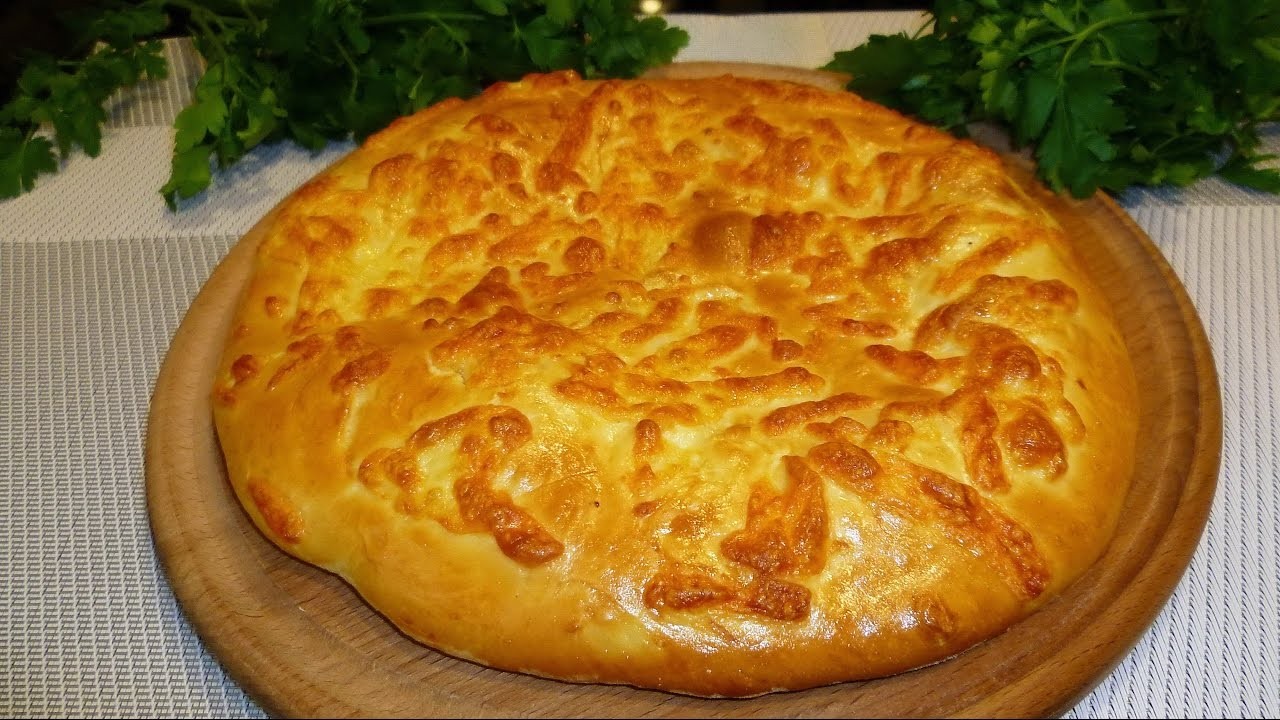 Adjarian - Adzhar khachapuri - Adzharian khachapuri is baked in the form of a boat and filled with eggs.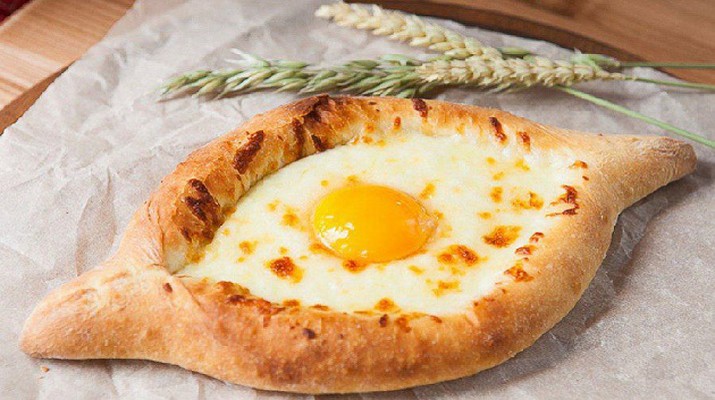 Lobiani - Lobiani - flat pies with beans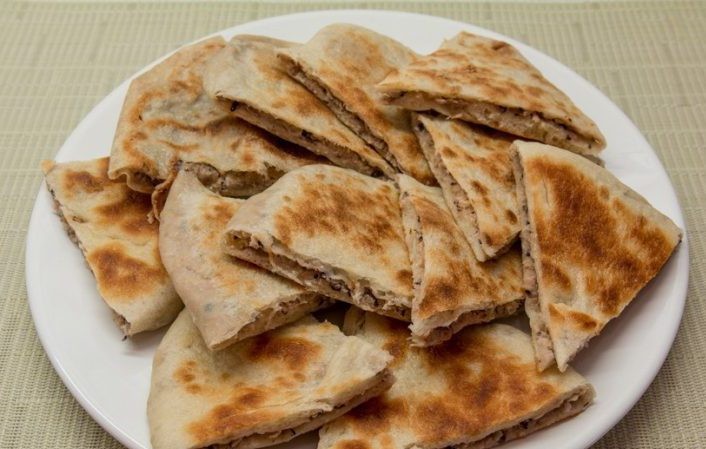 Kubdari - Kubdari - a dish of Georgian cuisine, a cake with meat from the Georgian region Svaneti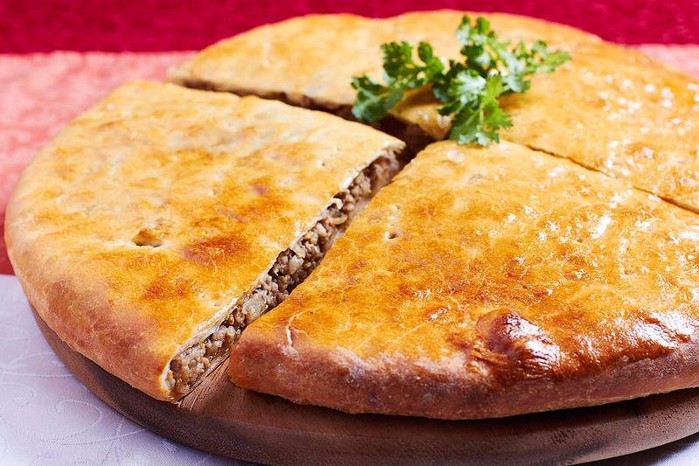 Georgian Bread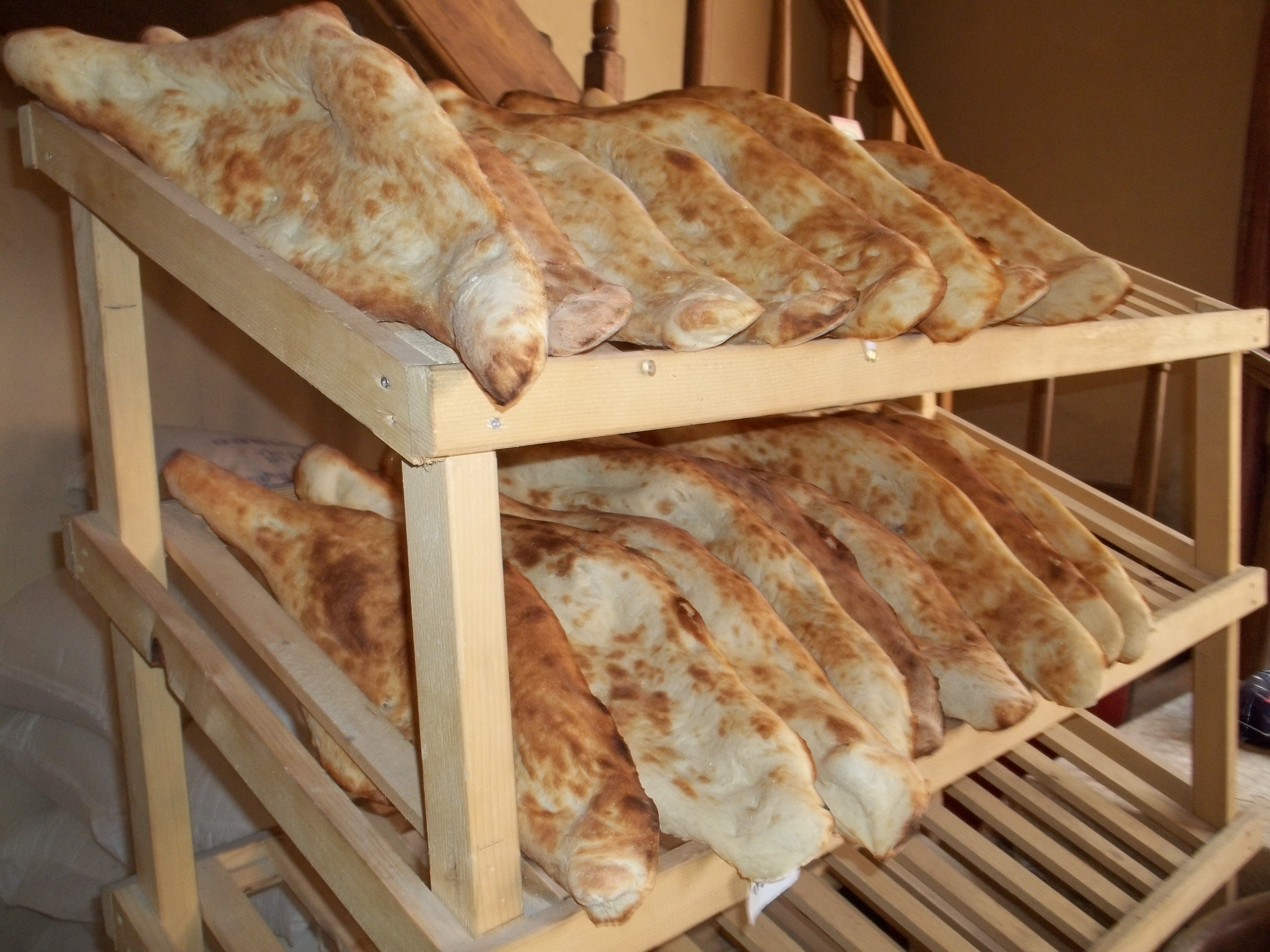 Mchadi - Georgian corn tortilla, used in Western Georgia as. Can act as an independent dish.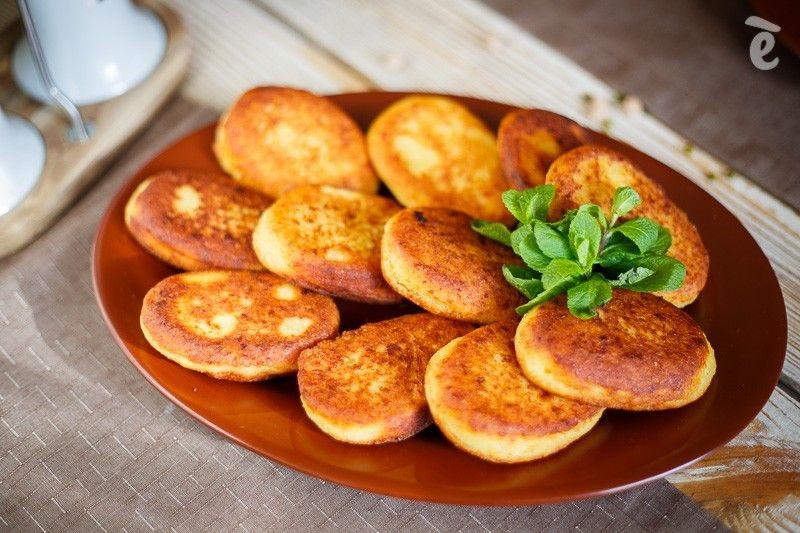 Nadugi - is the most delicate cream cheese Georgian cheese that is often mixed with mint to serve on a table and wrapped in suluguni cheese sheets, giving the form of snacks in the form of pouches or envelopes. Auricles are the lightest consistency, practically free of fat and very healthy. Produce the Irrigation cheese by boiling the whey left from the milk after making the cheese ..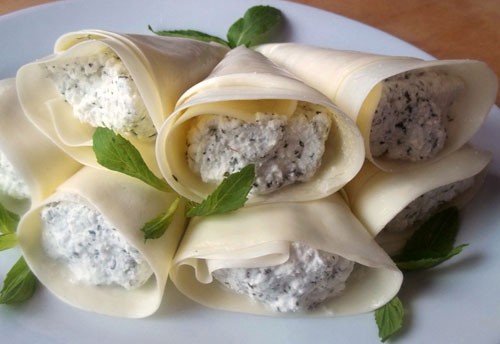 Chiji-Piji - Georgian chizhi-pizhi is a meat casserole stuffed with everything that is at hand: eggs, greens, cheese, potatoes, tomatoes. In front of you, one out of a thousand possible options.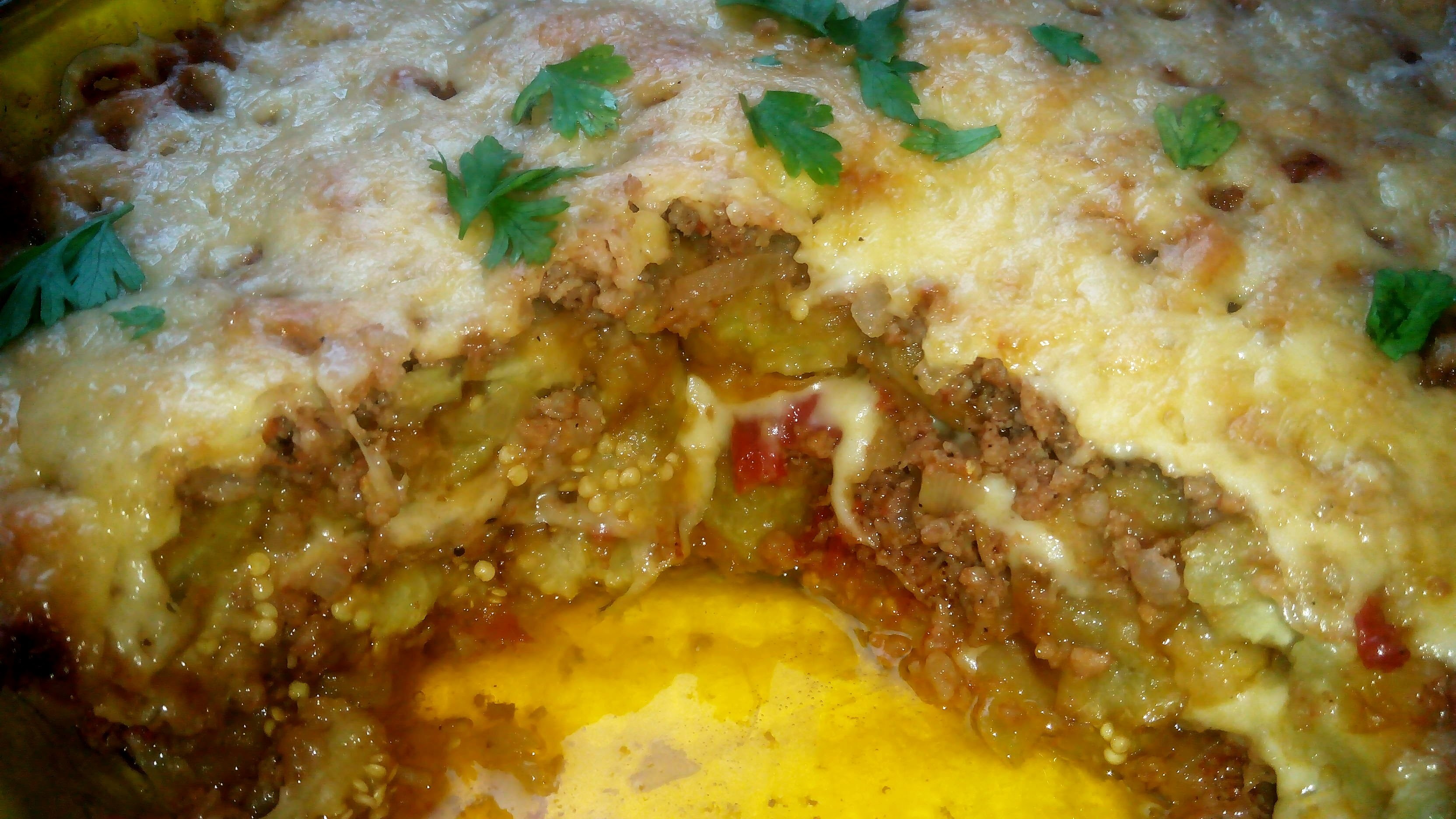 Khinkali -
a national dish of Georgian cuisine from the mountainous regions of Pshavi, Mtiuleti and Khevsureti, then the dish spread to other regions of the Caucasus.
Georgian khinkali in composition and method of preparation are significantly different from Dagestan khinkal.
Georgian Kebab - Georgian Kebab - Kababi is not prepared from mutton, as is customary in other Caucasian peoples, but from beef or a combination of beef + pork. Well, spices, respectively, are used by Georgian - sumac or barberry.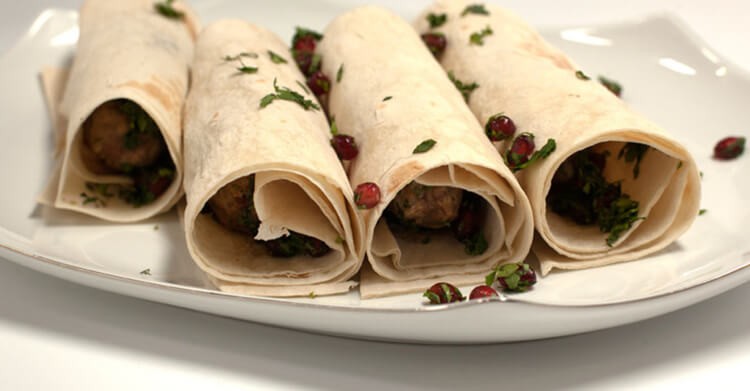 Kupati -
Kupati is a special kind of Georgian preserved raw sausages, which need culinary processing.
Kupaty cook on charcoal or grill, in the same way as other raw sausages. The shell from the intestines is not recommended to pierce, as this leads to a loss of juice and fat.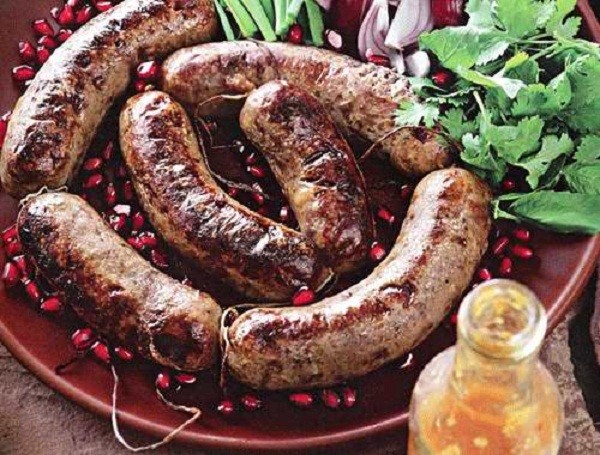 Chanakhi - is a dish of Georgian cuisine, which is a mutton stewed in a clay pot with vegetables. The traditional set of vegetables for the canacha is potatoes, tomatoes, eggplants and onions, put in a pot of layers, and equal in weight to the weight of the meat taken. In chanakh, as a rule, a set of spices typical for Georgian cuisine is used.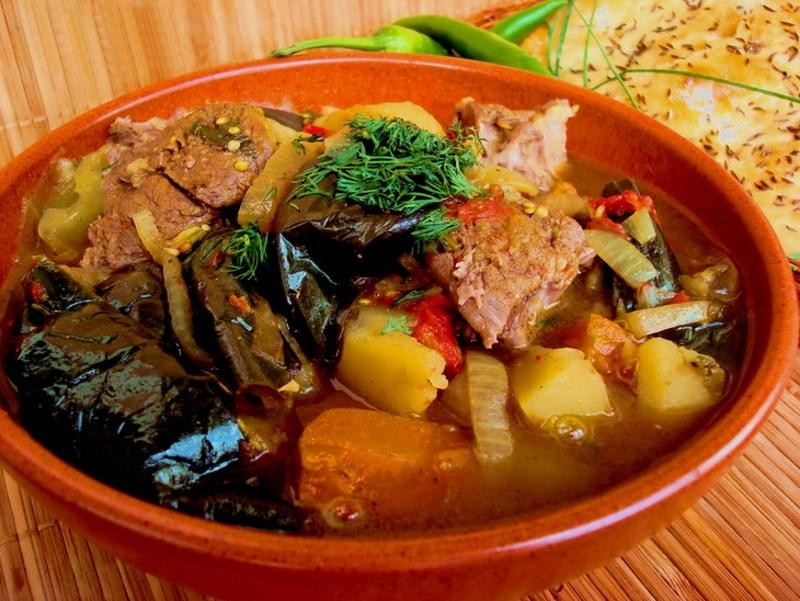 Chakapuli - is a national Georgian dish, which is a young meat stewed with herbs and spices (in translation means "meat in foam"). Most often, lamb is used (but also veal, etc.), and for the festive version - lamb. A special piquancy is added to the dish by fresh tarragon (tarhun), also often used for cooking tkemali. These ingredients give the meat a light sourness and a delicate aroma. Chakapuli are served as an independent dish with wine, greens and bread, and they eat it only when hot.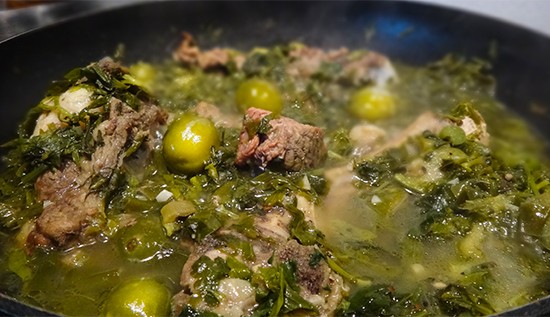 Lobio - is a Georgian dish, as well as a common name for beans (both green, green, and in beans). The lobio dish is popular with the Transcaucasian peoples, and is prepared both from green bean pods, and from boiled red beans with greens and / or pomegranate seeds. Served, as a rule, with Georgian bread "Tonis Puri" or "Shotis Puri", baked on wood.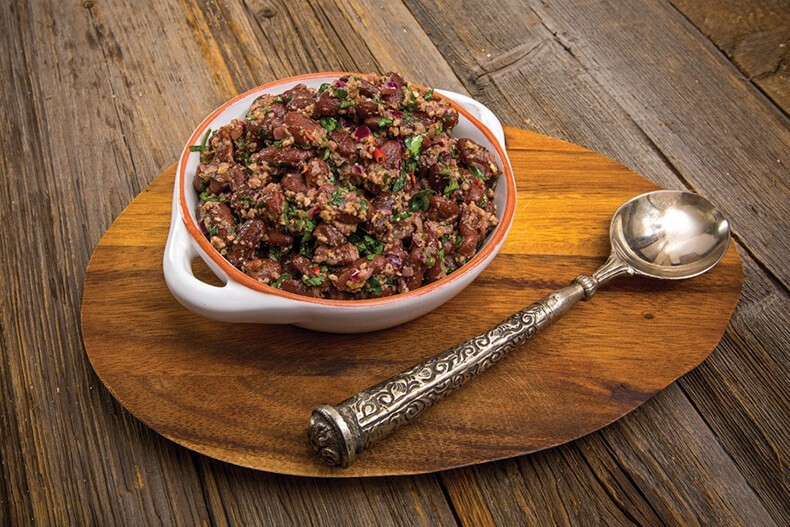 Pkhali - One of the most popular and cheap dishes of Georgian cuisine, which uses the principle of variability ("one recipe - different ingredients"). The basis of the phali is any vegetable or grass: nettle leaves, ekala (literally - thorn, known as sassaparil); young tops of radish, beets, cauliflower; leaf beet.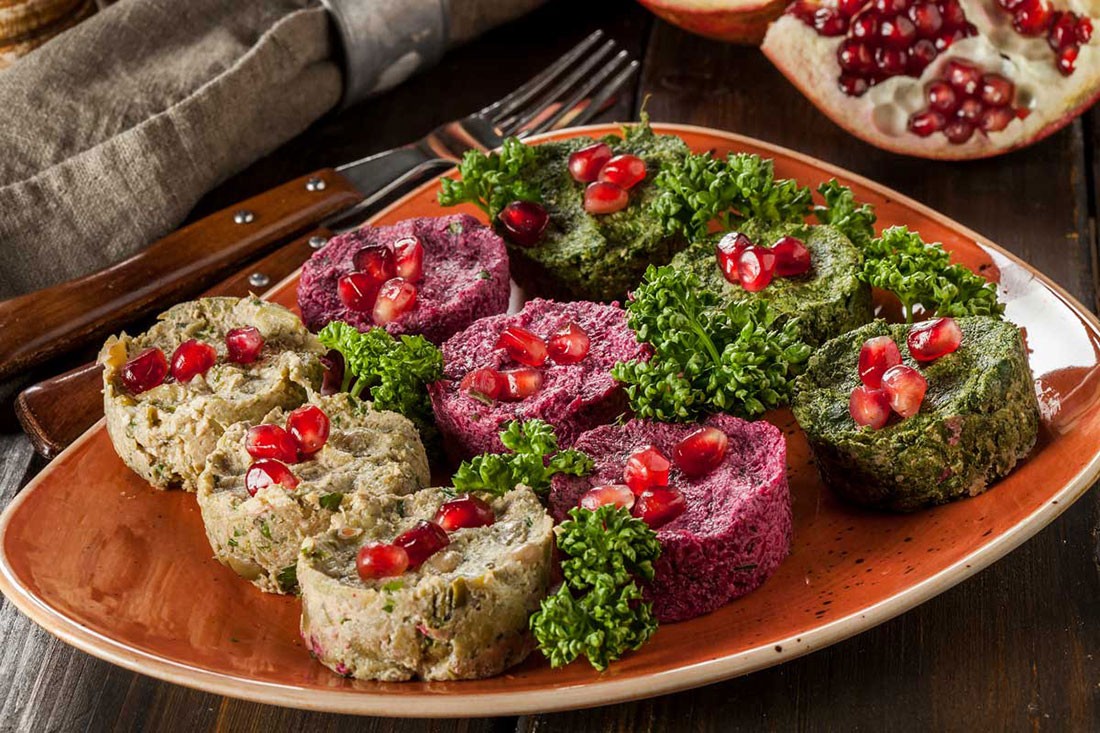 Ostri - Spicy or stewed beef in Georgian is a popular hot spicy dish of stew meat, very similar to the known solyanka. The ostry is prepared in Georgia as a lunch or dinner with the family according to this recipe, as well as as a national meat dish for the menu in restaurants
Gebjalia - very delicate and tasty cheese dish of Georgian cuisine comes from Mengrelia. It is prepared from a young unsalted Imeretian cheese or a young suluguni and mint. Served with mint-milk sauce or matzoni. The dish is prepared very quickly: no more than 15 minutes.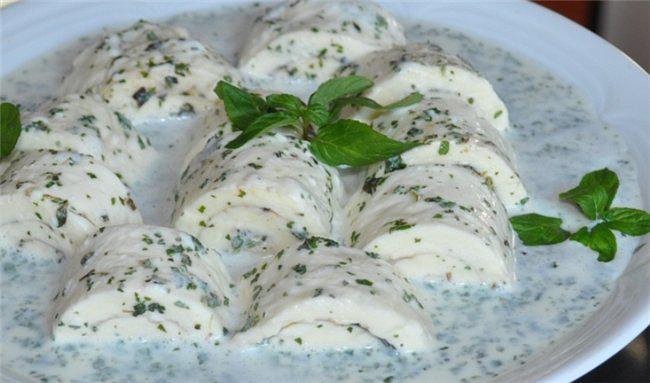 Kharcho - national Georgian beef soup with rice, walnuts and sour cream tkemali. The soup is very spicy, spicy, with an abundance of garlic and greens and much thicker than other soups, to which the rule "in soup should be half a liquid"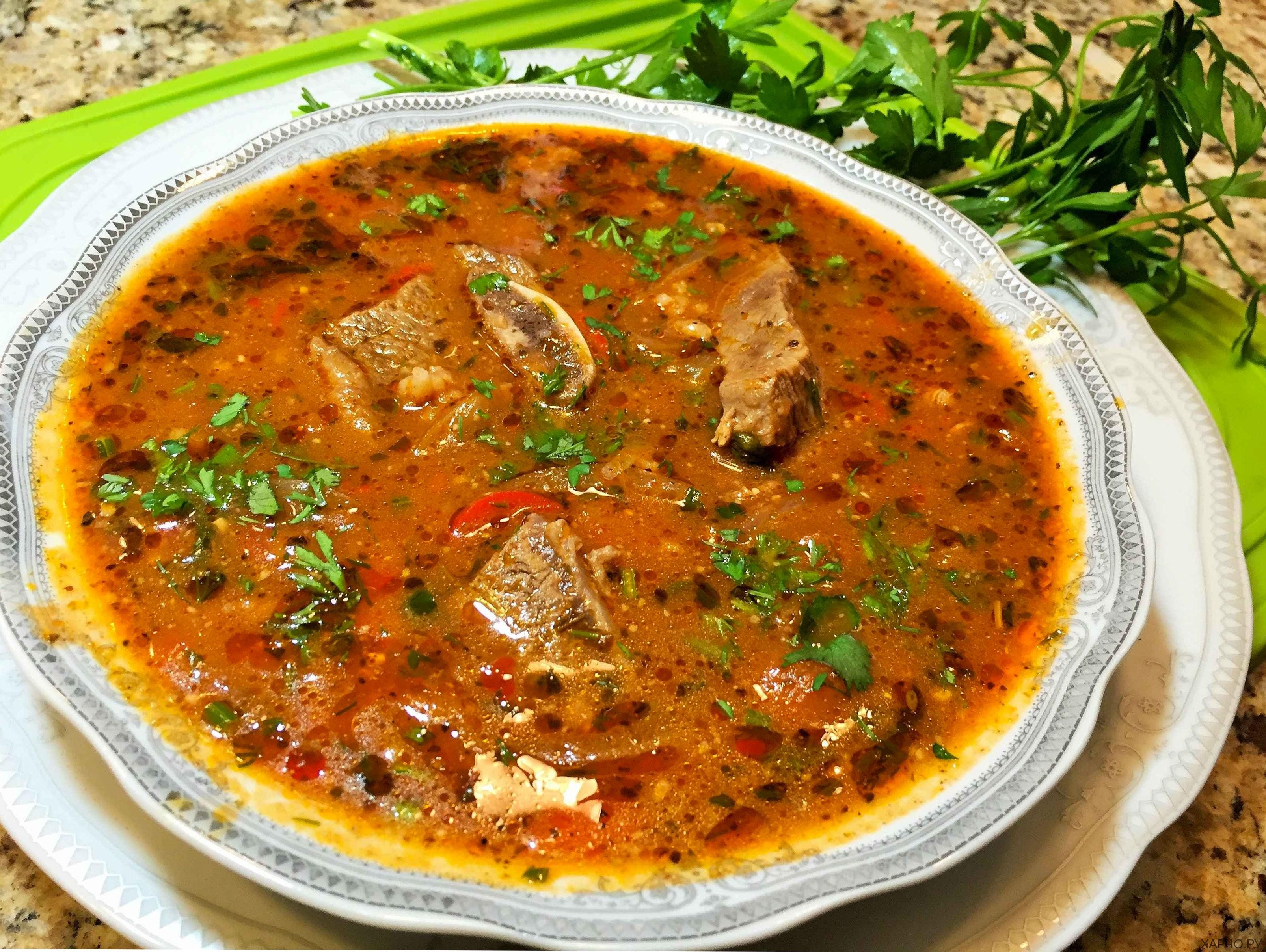 Ajapsandali - It is prepared from the obligatory ingredients: aubergines, tomatoes, sweet pepper, onions, garlic, a bunch of cilantro, basil, vegetable oil and salt, pepper to taste. Sometimes potatoes and hot peppers are added.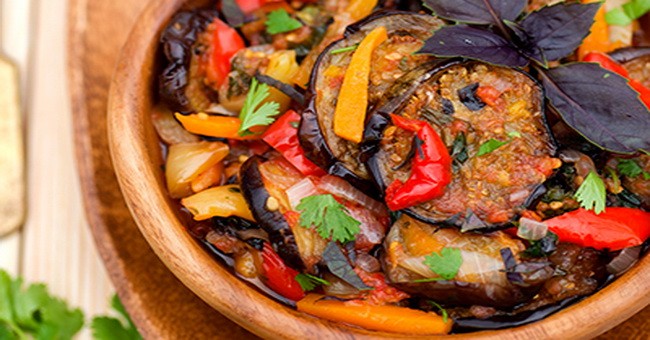 Chikhirtma - Georgian thick soup, in which two refills are introduced in the course of cooking - flour and egg. As a rule, chihirtma is cooked on broth from poultry, less often from mutton. Chihirtma is characterized by a complete absence of vegetable thickets.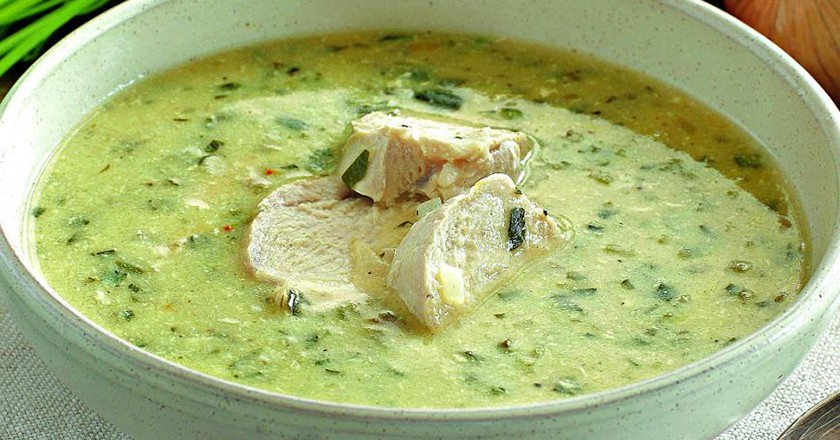 Ojakhuri -
The national Georgian dish, which is a fried meat with potatoes. It is prepared from different types of meat (beef, pork and even chicken), potatoes, spices, traditionally served on ketsi.
In Georgian, "ojahuri" means "family", this dish is usually prepared for the whole family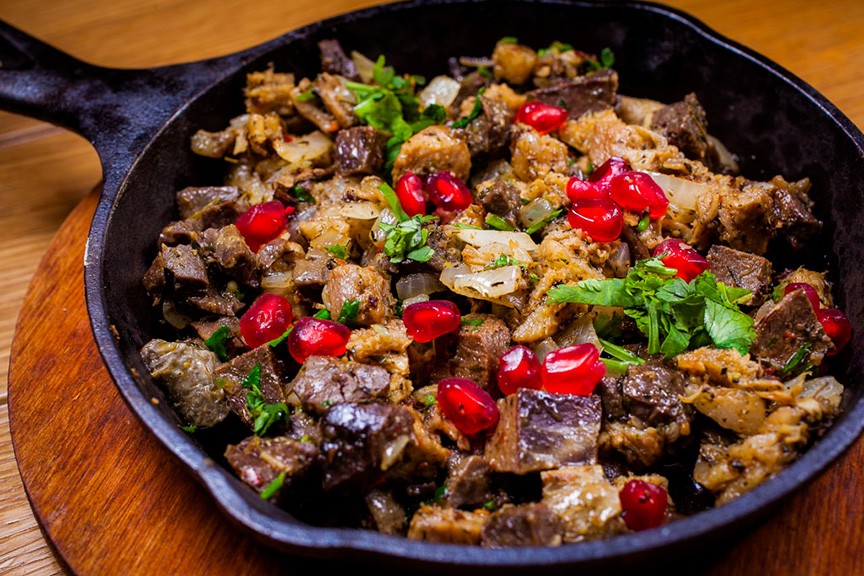 Sacivi - is a sauce of Georgian cuisine. Also the name of the sauce can be called a ready-made dish. The most widespread of dishes with this sauce was poultry, mostly chicken with sauce satsivi, called simply "satsivi". However, one should bear in mind that turkey sauce, turkey, goose, duck, chicken and even fish can be served. It is best known as a chicken dish with sauce. A distinctive feature of the sauce is the use in it in a large number of chopped walnuts.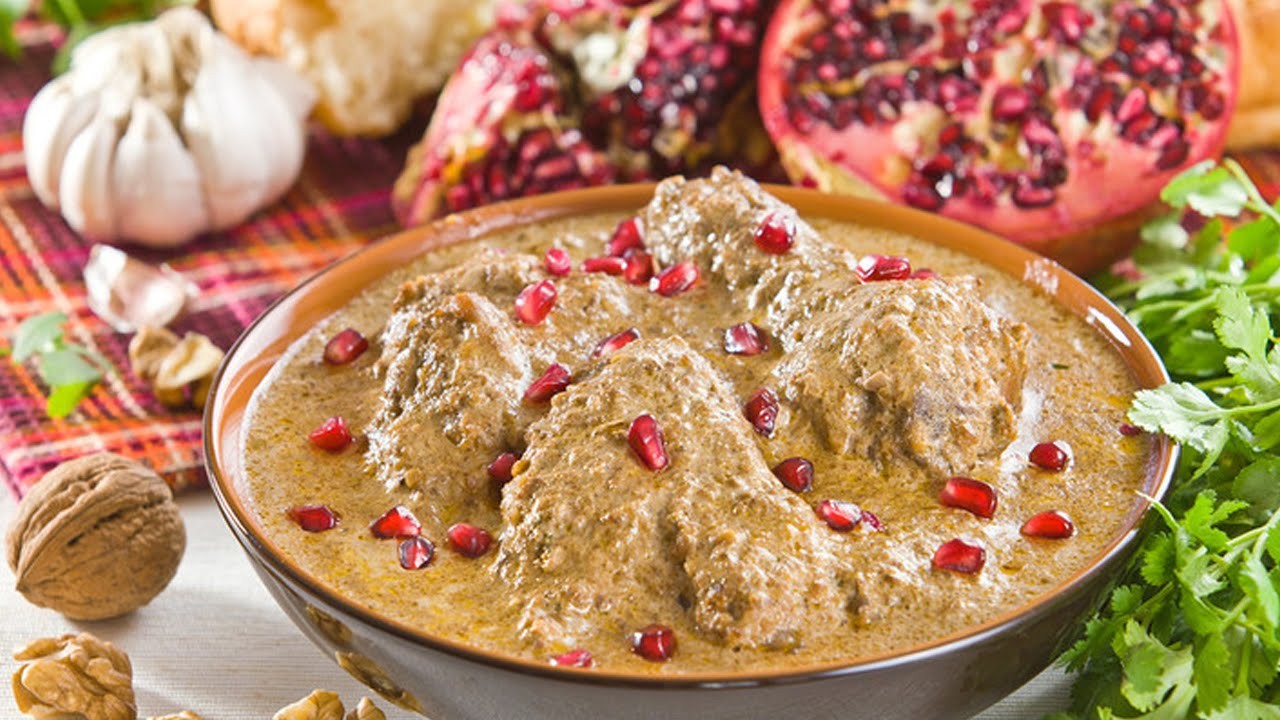 Mujuji - a dish of boiled half-marinated pork. Prepare it now, either from the pork legs of Istvost, or from a young meat pork, most often a pig. However, the real muzhuzhi must necessarily combine both types of meat, each of which is prepared in a slightly different way from the other, after which they are combined in a dish. In both cases, wine vinegar is used.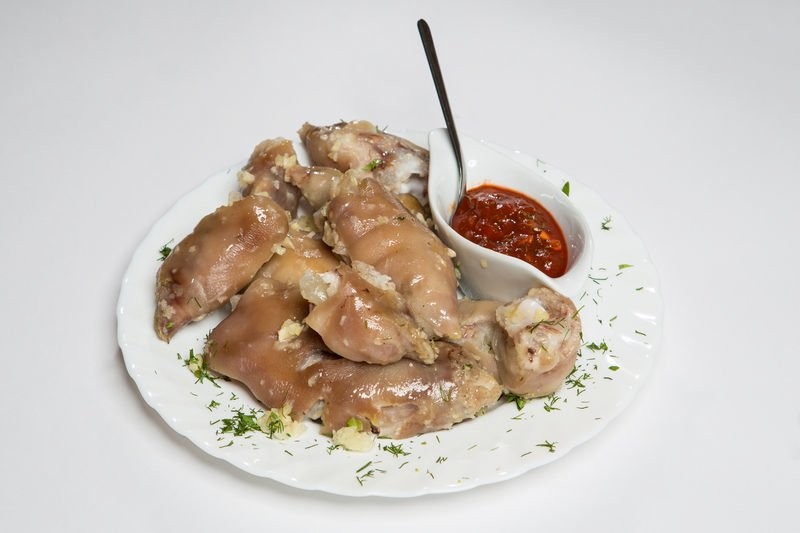 Shqmeruli - Rachi skomeruli is a Georgian dish made from chicken, which has been prepared for a long time in the region of Georgia - Racha. The very naming - "shkmeruli" (chkmeruli) - comes from the village of Rachin Shkmeri. Today, skomeruli are one of the most popular and popular dishes in all Georgian restaurants. What does it taste like? Very very delicious, however, like all the dishes of Georgian cuisine!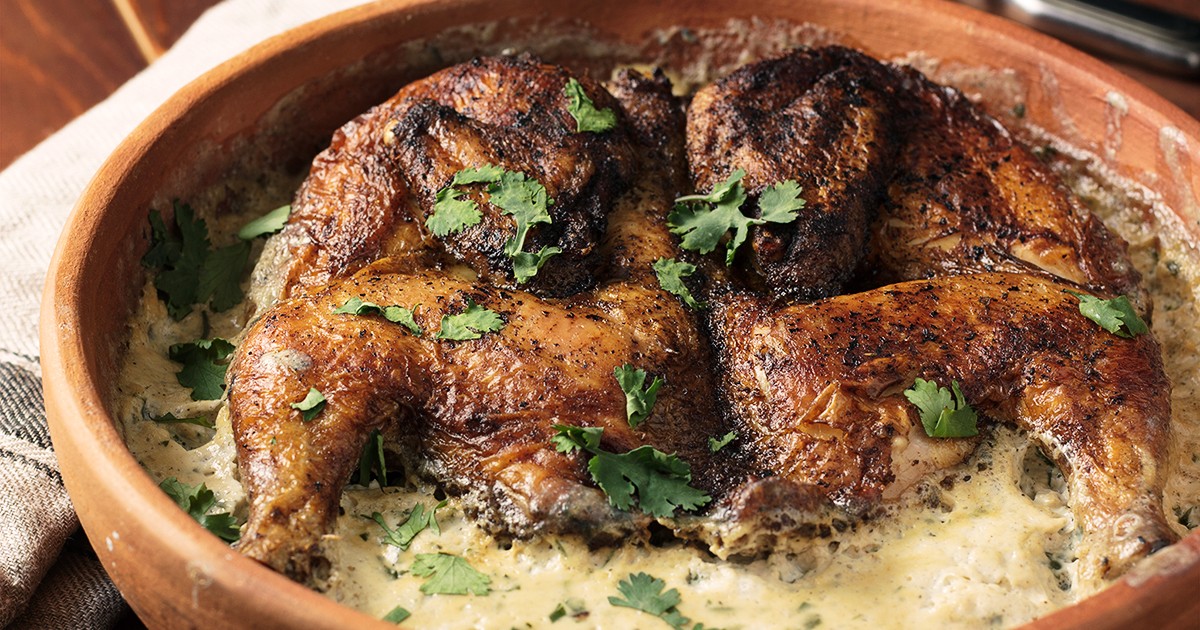 Fried Piglet - The king of the festive table in Georgia has always been a young (milk) pig in the oven, or absolutely, in the most ideal case, in a wood-burning stove.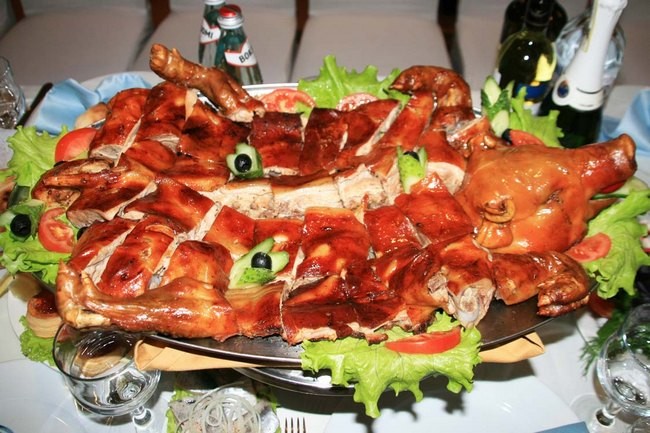 In Georgia, shish kebab (mtsvadi) is one of the most popular and common dishes. No feast can do without mtsvadi, Georgian wine and toast. In a roadside cafe there may not be salads or soups, but shish kebab in Georgian will be required. The best shish kebab in Georgia is cooked in Kakheti - in the edge of plenty of wine, fruits and meat.